Hello! My name is Anita. I'm married to Joe, and we have two young children (Jack, 3; and Ava, 1.5) and two ~6 year old boxers (Chloe, our white boxer; and Jenson, our fawn boxer). This blog will be dedicated mostly to Chloe, but I plan to share a little bit about how this entire process is impacting our family.
We brought Chloe (sometimes called Chloe Bear, or just Bear) home as a 14 week old puppy. She was born on February 15, 2010 and was originally named "Powder" – her momma gave birth to her in the snow while out on a potty break from birthing. She was part of a big litter, and having a puppy in the house was exhausting but a lot of fun.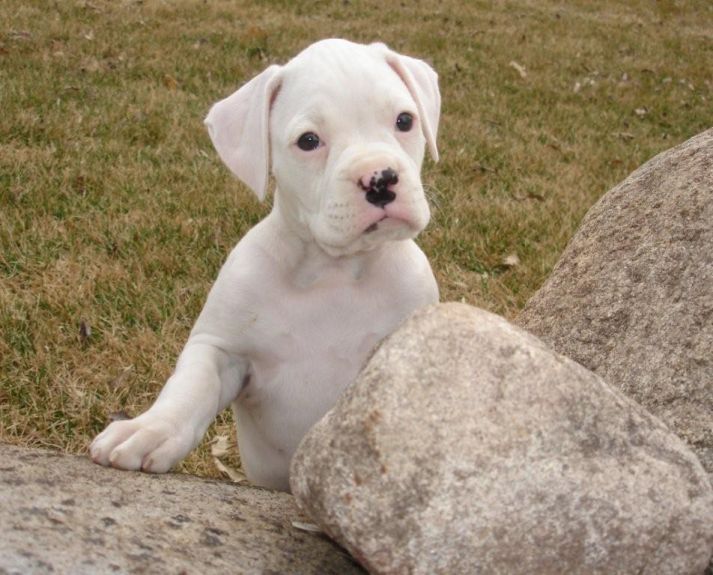 About a year later, on February 25, 2011, we adopted Jenson from a local Boxer Rescue group. Little is known about Jenson's history – he was surrendered to a high-kill shelter and transported to Minnesota. He was, and occasionally is, a timid dog, but Chloe helped teach him how to be a dog. The rescue vet, and our family vet, agree that he was likely around the same age as Chloe – born in late 2009 or early 2010 – but can't say for sure. Adding a second dog to the family was a lot of fun, but extremely exhausting for us and the dogs. They quickly became the best of friends, though, and are a very bonded pair. Chloe plays the perfect momma role to Jenson's mostly laid back style.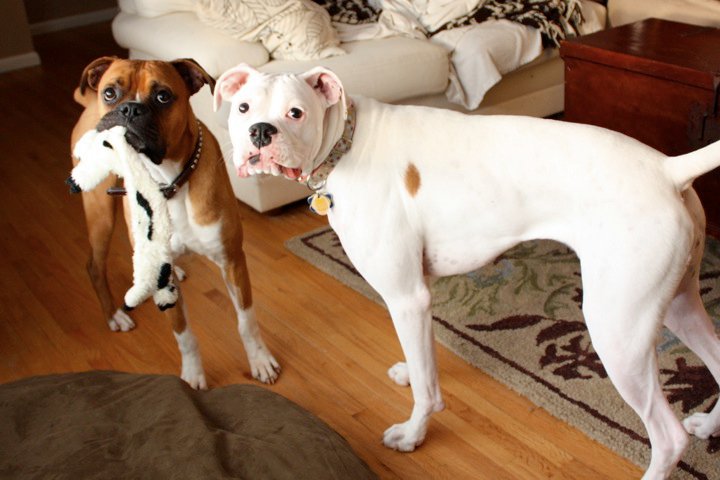 We recently discovered a bump on Chloe's front left leg, above the "elbow" joint. She had previously had a bump in this location but it lasted for a few days, then went away. She's always been a very lean and fine haired dog – if she gets a mosquito bite we notice the bump from it very quickly – so we figured it was something similar and thought nothing of it. However, months later it came back and then quickly grew to a very large size. Chloe didn't appear to notice – there has been no change in her mood, temperament, range of motion or anything else. She has never seemed to be in pain, but the rate at which is grew was startling to us. We brought Chloe into the vet for an examination, and they took several fine needle aspirations of the bump and sent the samples off to a lab. We briefly talked best and worse case scenarios. Best case – it was a fatty lump and the vet or a specialized vet surgeon could try to remove it. Worst case – it is cancer and couldn't be biopsied due to that part of her body having very little extra fat and skin (no margins) and an amputation might have to be considered. Chemo and radiation was also mentioned as a possibility, as part of the worst case diagnosis – but we've decided that chemo & radiation didn't seem like the best option for our family. A few short days later, the results were in – spindle cell sarcoma. Our vet and a veterinary surgeon both examined Chloe, and it was determined that they would not be able to get it all with an attempt at a biopsy, and amputation was recommended. We had x-rays and bloodwork performed that next week – wanting to determine if the cancer had spread, or if her internal organs were cancer free. Those tests came back cancer free! Now the big decision – how do we go forward? There was a lot of crying, a lot of searching on the internet, and a lot of talking with friends. Chloe has exhibited no pain, no restriction in movement, no change to her appetite or sleep patterns. Just the other night, she took a leap off our patio, into the snowy lawn, to chase a bunny across our back yard. I think she spanned about 10 feet with her initial horizontal leap! She's always been a very high energy, driven dog. We have been nervous about how an amputation would impact the quality of her life – because right now, the quality is really good! Chloe loves to wrestle with Jenson, and occasionally with our kids (gently, and supervised!).  We have been worried about the what ifs – what if the cancer just comes back in another place a year from now? What if she won't be able to run and chase again? But ultimately we've decided that we can't live in fear of future cancer, and in hope that she'll eventually learn how to run and chase and be a dog just like she is now. Of course, after the emotional side of the struggle, we have the rational side of it. What is this going to cost us? In what ways will this impact our lives – from the actual surgery, to rehab, and beyond? How will this impact our children? Searching and asking others, I've learned there is a very big range of costs for this procedure: $2000 to $6000 was what I had been seeing. Wow. We didn't want the cost of something to be a deciding factor, but as a young family, unfortunately that definitely needed to be considered. The surgeon's price quote came in at the lower end of that range, so after discussing how we'd adjust our own financial priorities, we decided that the amputation was officially our decision.
I made the call today to our vet, to set up an appointment to discuss how we can be prepared for post-procedure life immediately after surgery, and to get a medical perspective on the short to medium term adjustments; as well as an idea on how much time we should be home with Chloe after the surgery. Our vet is coordinating schedules with the surgeon, and we plan to move forward with surgery within the next few weeks.
This process has been eye opening, for sure. It's been emotional, with bits of rational decision making mixed in. I'm glad that we ultimately have the financial ability (even if it is a bit of a stretch to do so) to pursue this medical procedure. We are fortunate to have the knowledge, and financial ability, to hopefully give Chloe many more years of life – cancer free. That is a powerful idea, and what is helping us get through this. Right now, her quality of life is great. We'll have a rough period after surgery, I'm sure. But hopefully, she'll live out the rest of her life as a happy dog. We didn't want to wait until the tumor grew large enough to restrict motion, cause pain, or spread to her internal organs – which then would just be pain management until she indicated that it was time to cross the rainbow bridge.
More to come. Thank you for reading and going on this journey with us.