Chloe-bear's one month ampu-versary has come and gone without an update! Life has been b.u.s.y. BUSY in our house. Chloe is moving so quickly now that getting an okayish picture of her with my phone has been hard! But we are all doing really well.
We have still not tried the stairs with Chloe, but in my gut I think that she'd take them like a champ, wondering what we were so worried about. I had it on my to-do list for the weekend, to fit her Webmaster harness/brush guard to her body, but once again I did not get that accomplished.
I mentioned to Joe, before Chloe's surgery, that she seemed less happy. Her nub was wagging less, she didn't seem as excited to see us. This weekend, it occurred to me that her nub is wagging almost constantly now. I have no regrets about having the amputation performed, but realizing that her happy is back when I never even knew it was missing, was a great realization. We already knew that we did the right thing, but all the little signs confirming that are comforting.
On Friday, Chloe has an appointment with Twin Cities Animal Rehab. We hope that Tripawds Foundation still has grants available once we've finished our visit. I had seen a post on Tripawds about how to make your own wobble board – we wanted to give that a try. Silly me, I didn't bookmark it and now I can't find it. Anyone know where it is? Please comment with the link if you do! 🙂
What's a blog post, without a few pictures?
Barking at the people walking by on the street. Yeah, her fur-brother Jenson took front and center in this pic. But Chloe is there, bathed in sunlight!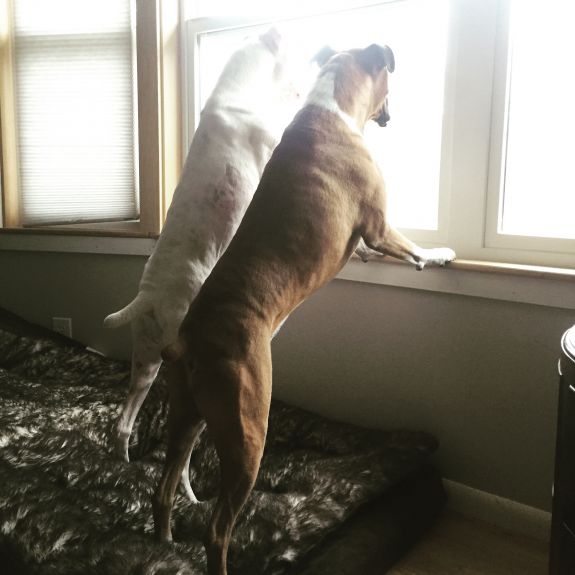 Smiling and sniffing outside. You can see just a bit of the scabs there, which are almost all off now on their own.