Here we are, mid-way through the fourth day. Last night was h.a.r.d. Chloe yelped out around 2 am, and vocalized for a good 5 seconds. She was very upset, confused, and restless. We tried medicine, food, going out to potty, massage, laying with her, but nothing was calming her down. She was quite panicked for the rest of the night – whining and panting, then pacing, until morning.
We brought her back into the vet this morning – they looked her over from head to toe. Her fluid build up looks great – better than they expected. She doesn't have any signs of constipation. Her gas is out of control, which I assume is from the canned dog food and ground beef. I am going to boil some chicken for her this afternoon, I hope that might be an acceptable food for her that might alleviate the toxic gas. The vet prescribed another med for her – gabapentin.
We were able to get her to eat a bit when we got home, and then gave her a dose of gabapentin and she finally relaxed! First time in 8+ hours. It was a relief to us to see her finally calm. I know we'll have ups and downs, but it's really so hard to feel powerless in those situations. Hopefully adding the new med will help us better manage her pain. Picture below is of that first restful moment. I thought it was kind of funny how she leaned part of her body off the dog bed, as if she was trying to raise the sore area.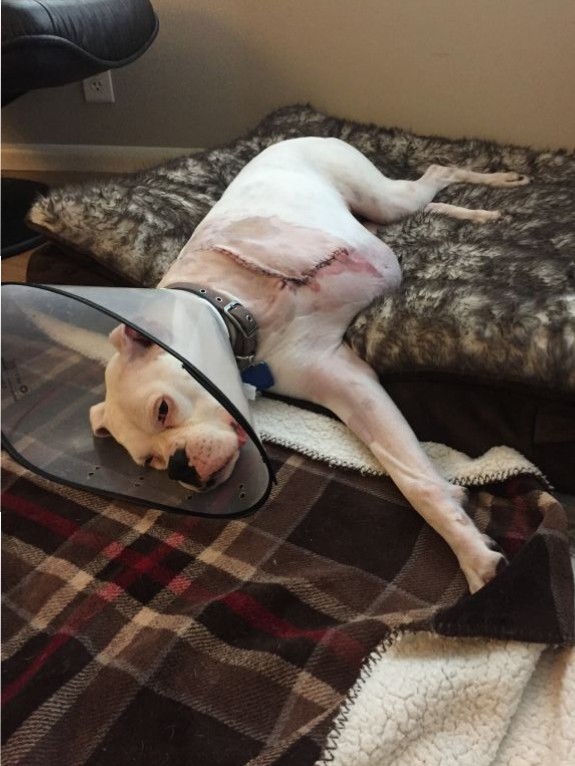 Outside going potty and getting some fresh sniffs. It's raining here today, so the snow is rapidly melting and uncovering all sorts of soggy nature in the yard which I know is right up her alley. Pre-amputation, today is the kind of day that she'd want to spend outside as much as possible. We'd be cursing her when she stubbornly refused to come in, and using up all the towels cleaning her paws and undercarriage. Soon enough, she'll be back at it I'm sure. She looks her youngest when she's outside – hardly 6 years old in my opinion. For not liking the extremes of the weather, she really loves being outside and our 40 degree day is a welcome change from winter.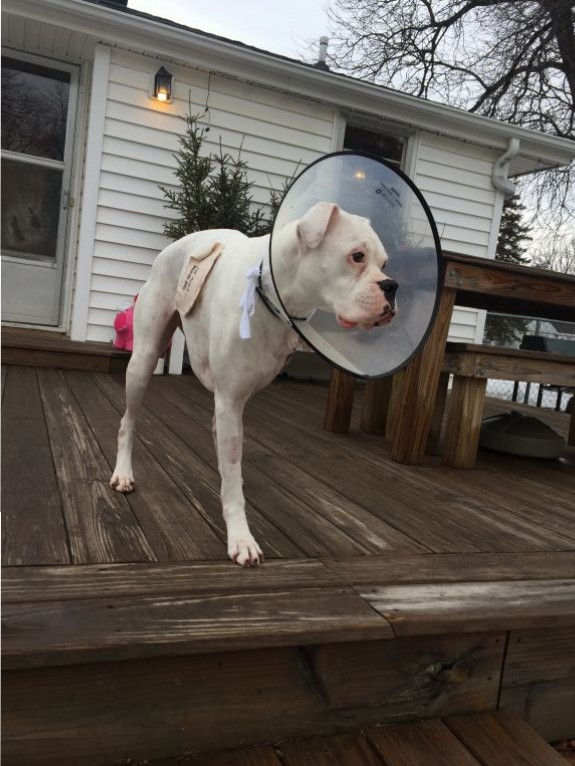 A dear friend sent Chloe a basket of get well treats. Thankfully, Chloe and Jenson both alerted me to the big white truck outside that dropped the package at the door. I may have missed the delivery, had they not barked for a minute straight. 😉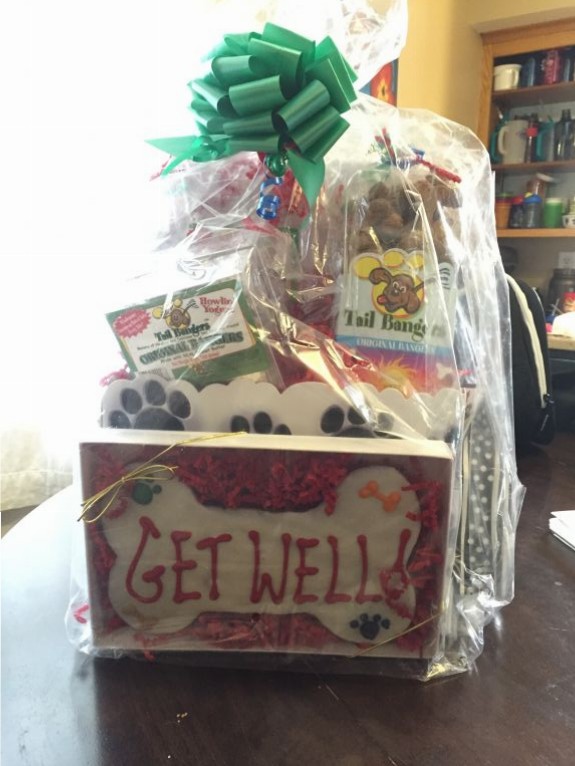 My wish is for a restful day and especially overnight. Tomorrow, we are scheduled to go in at 10:30 to have her pain patch removed. If her pain still seems on the higher end of things, the vet said we could discuss putting a fresh patch on. We will see.